QUESTIONS?
We've got answers. Contact us.
We've got answers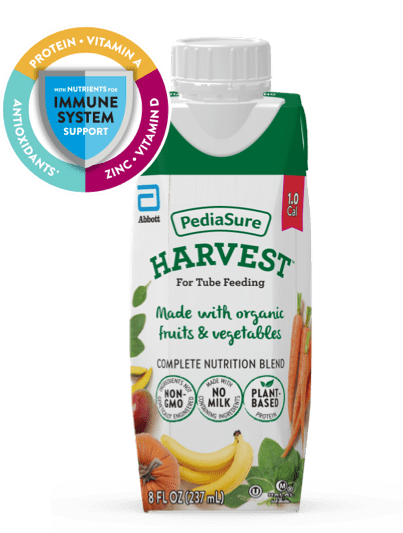 * Vitamins C & E and selenium.
PediaSure Harvest™
For kids aged 1-13
PediaSure Harvest tube-feeding formula is made with 5 organic fruits and vegetables. It provides complete nutrition to help support growth and development for kids who may need a tube-feeding formula. PediaSure Harvest is designed for tube feeding but may be fed orally.
* Vitamins C & E and selenium.
Features
Meets or exceeds 100% of the Dietary Reference Intakes (DRIs) for protein and 25 vitamins & minerals per liter for children 1 to 8 years of age and per 1.5 liter for children 9 to 13 years of age
6 combined servings* of organic fruits & vegetables per liter
4 servings† of organic whole grains per liter
Good source of plant-based protein
Made with no milk, gluten, lactose, eggs, treenuts, peanuts, wheat, shellfish, or fish-containing ingredients
No artificial colors or flavors
Non-GMO‡
DHA omega-3 for brain and eye development
Kosher & halal
Easy-to-open, reclosable carton
Hang time: 8 hours
* 1 serving = ½-cup equivalent.
† 1 serving = 1-oz equivalent.
‡ Ingredients not genetically engineered.
Ingredients & Nutrition
Ingredients
Water, Organic Mango Puree, Organic Spinach Puree, Organic Milled Whole Grain Brown Rice, Organic Pumpkin Puree, Organic Banana Puree, Organic Rice Maltodextrin, Soy Protein Isolate, Soy Oil, High Oleic Safflower Oil, Organic Rice Protein Concentrate, Organic Carrot Juice Concentrate. Less than 0.5% of: Soy Lecithin, L-Lysine, C. Cohnii Oil, Taurine, L-Carnitine, Calcium Phosphate, Potassium Chloride, Potassium Hydroxide, Ascorbic Acid, Choline Chloride, Ferrous Sulfate, dl-Alpha-Tocopheryl Acetate, Zinc Sulfate, Niacinamide, Calcium Pantothenate, Thiamine Hydrochloride, Biotin, Pyridoxine Hydrochloride, Riboflavin, Vitamin B12, Vitamin D3, Folic Acid, and Potassium Iodide.
Contains soy ingredients.
Serving Size: 1 carton (8 fl oz)
Nutrition Information
Protein, g:

9

Fat, g:

9

Saturated Fat, g:

1.5

Trans Fat, g:

0

Polyunsaturated Fat, g:

4

Monounsaturated Fat, g:

3.5

Cholesterol, mg:

0

Carbohydrate, g:

31

Dietary Fiber, g:

2

Total Sugars, g:

9

Added Sugars, g:

2

L-Carnitine, mg:

4

Taurine, mg:

15

Water, g:

196

Calories:

240
Vitamins and Minerals
Vitamin A, mcg RAE:

200

Beta-Carotene, mg:

2.4

Vitamin D, mcg:

6

Vitamin E, mg:

3

Vitamin K, mcg:

30

Vitamin C, mg:

24

Folate, mcg DFE:

70

Folic Acid, mcg:

42

Thiamin (Vitamin B1), mg:

0.3

Riboflavin (Vitamin B2), mg:

0.3

Vitamin B6, mg:

0.3

Vitamin B12, mcg:

0.3

Niacin, mg NE:

3.2

Choline, mg:

80

Biotin, mcg:

5

Pantothenic Acid, mg:

1.3

Inositol, mg:

20
Sodium, mg:

135

Potassium, mg:

620

Chloride, mg:

250

Calcium, mg:

330

Phosphorus, mg:

250

Magnesium, mg:

40

Iodine, mcg:

23

Manganese, mg:

0.50

Copper, mg:

0.14

Zinc, mg:

1.8

Iron, mg:

2.7

Selenium, mcg:

7

Chromium, mcg:

7

Molybdenum, mcg:

30
Precautions
Suitable for bolus syringe, gravity syringe, and pump-assisted tube feeding
Not for IV use
Not intended for infants under 1 year of age
Use under medical supervision